Most organizations continue to invest a significant number of hours every month in a particular set of activities related to calculating, manipulating and validating critical financial reporting data using spreadsheets. Organizations should be asking whether this level of effort represents incremental value to the financial reporting process and whether this actually does needs to be done in spreadsheets.
Common root causes of this manual effort include:
Data originates in multiple systems, resulting in increased reconciliation steps and an increased likelihood of error.
Data definitions vary between business units and systems.
Manual processes are needed to report or analyze data from multiple systems.
Limited amount of formal pre-close activities drives sub-ledger close beyond Day 0.
GL is used as a data repository and spreadsheets are used to manipulate and consolidate.
Lack of clearly defined policies and procedures.
Materiality concepts and limits are not properly employed.
Lack of consistency in how performance is being measured and difficulties in gathering key performance data.
Lack of a full/transparent audit trail and "multiple versions of the truth."
Insufficient connection between actual results reported and budget/forecast, due to different systems, applications and timeframes.
Processes are manually intensive and key person-dependent.
Too many manual journal entries.
Inter-company transactions are difficult to reconcile as they are processed through multiple systems and sub-processes.
Generating accrual information is a manual, time consuming process.
Highly manual processes with multiple hand-offs, no automated workflow and inadequate review.
Use of complex inter-company relationships increases the number of transactions requiring reconciliation.
External, BU, other operational data not submitted timely.
Difficulties in maintaining and reporting multiple sets of books (e.g., U.S., local GAAP, tax, regulatory, IFRS, etc.).
Difficulty in performing tax and financial scenario planning.
Lack of appropriate level of detail for tax provision and reporting.
To begin resolving these challenges, you have to understand the activities underlying the problem.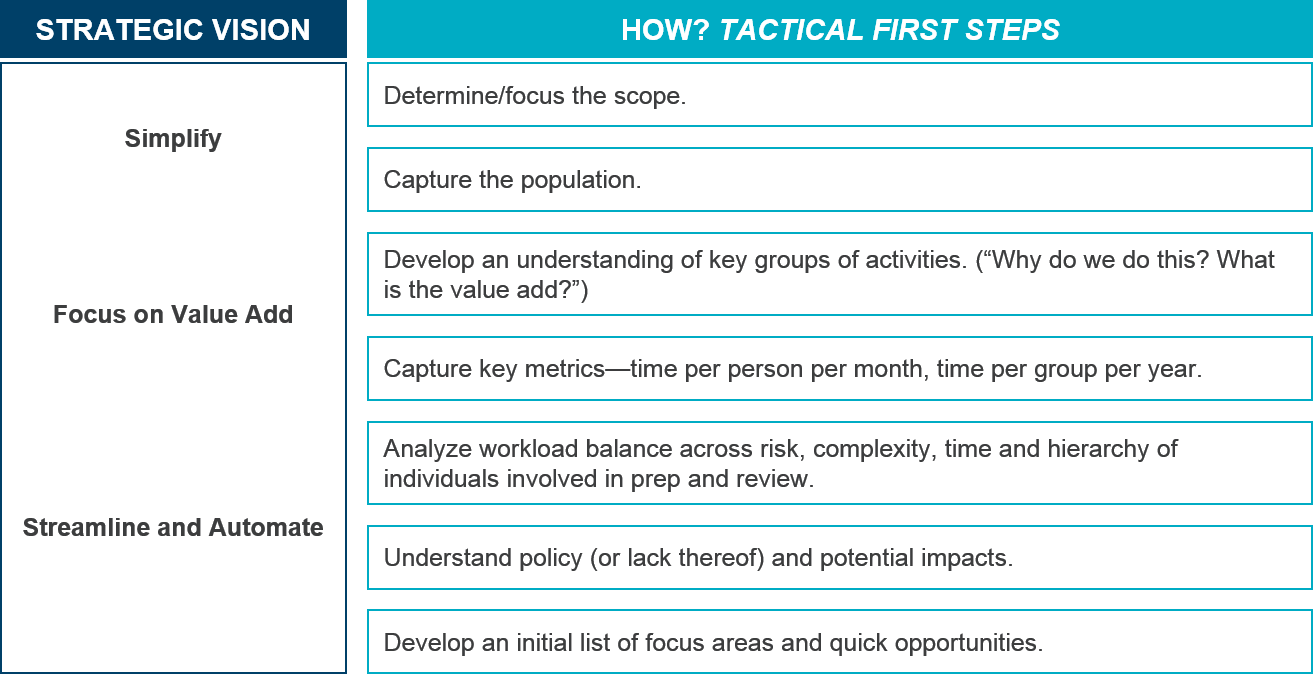 When improving the process, here are some key questions to consider:
How "spreadsheet reliant" is your organization and how aware are you of the breadth and depth of the manual processes that "drive" those spreadsheets?
Have you ever undertaken an effort to capture the full population of close activities at the task level to flesh out the manual effort?
Are you experiencing "surprises" that can point to a manual process/spreadsheet as a contributing factor?
For more information on improving the financial close process, check out these tools on KnowledgeLeader: