Six Elements of Infrastructure for International Financial Reporting Standards (IFRS) Conversion
Subscriber Content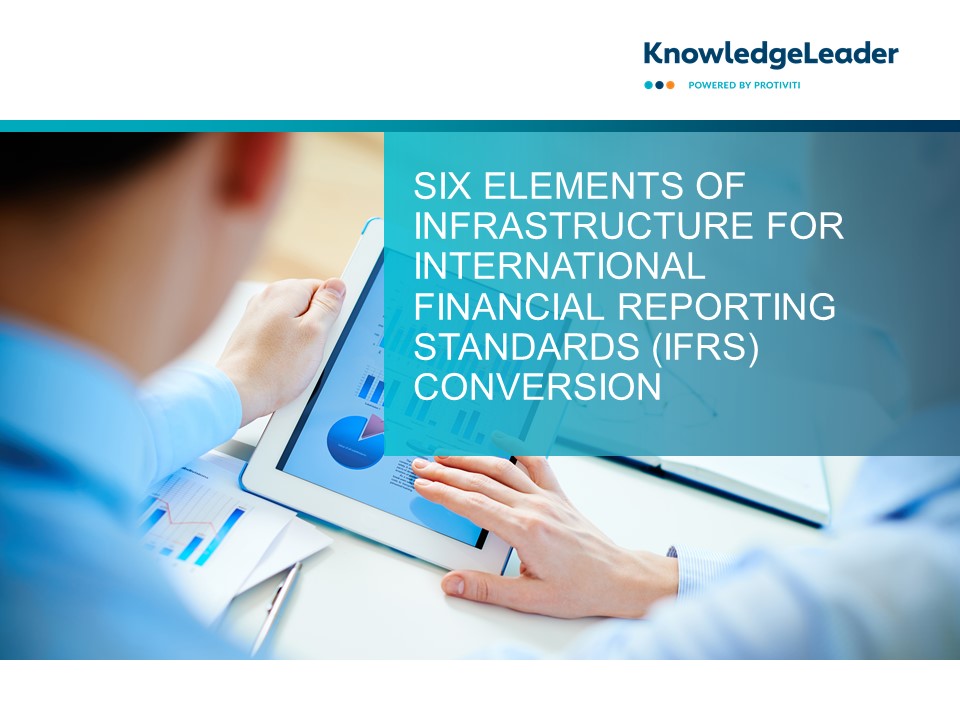 This sample document includes the six elements of infrastructure for an organization's international financial reporting standards (IFRS) conversion process.
The Six Elements of Infrastructure (Six Elements) is a useful tool for categorizing issues, understanding where problems are occurring within the organization, and drawing conclusions to form the basis for recommendations. In Protiviti's view, the elements of infrastructure should be considered when designing a new process or assessing an existing process. Also, the Six Elements are common to each process or function. These elements include: 1) Business Policies; 2) Business Processes; 3) People and Organization; 4) Management Reports; 5) Methodologies; and 6) Systems and Data. These are the capabilities that each process or function should possess; and they provide a comprehensive and consistent framework to communicate the requirements for the appropriate operation of a process or function.
From a business policies perspective it is important to have the following in pace for the IFRS conversion process:
Accounting policies to identify the differences between IFRS and current accounting policies will need to be reviewed and updated to reflect changes to IFRS.
Management must determine the impact of IFRS on business strategies, loan covenants, key performance indicators (KPIs) and other contractual agreements.
Communication with investors, analysts and others will need to be updated to reflect conversion to IFRS.
Management compensation agreements and plans linked to financial metrics will need to be updated.
The impact on income tax liabilities and reporting must be assessed and quantified.
Risk & Control Matrices - RCMs